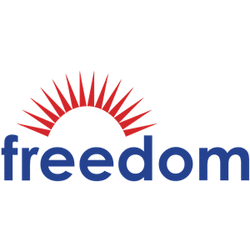 Freedom Financial Network
Data Analyst
Sorry, this job has expired.
Tempe, AZ
Who We Are:
Freedom Financial Network is a family of companies that takes a people-first approach to financial services, using technology to empower consumers to overcome debt and create a brighter financial future. The company was founded in 2002 by Brad Stroh and Andrew Housser on the belief that by staying committed to helping people, you can ensure better financial outcomes for both the customer and the business. This Heart + $ philosophy still guides the vision of our growing company, which has helped millions of people find solutions for their financial needs.
What began with 2 people in a spare bedroom has now rapidly expanded to a vibrant business that employs over 2,200 employees (known internally as The Freedom Family) in two locations: San Mateo, CA and Tempe, AZ. When you visit either of our offices, youll understand why our employees have voted us the Best Place to Work for the last several years. Its a place where the Heart + $ philosophy continues to thrive, where we believe that success is only achieved by doing whats right for our customers, our employees, and our communities.
In order to create brighter futures for our clients, employees, and businesses, Freedom Financial Network holds itself to four core values that have grown out of our Heart + $ philosophy: to care for everyone around us, act with integrity every time, collaborate with everybody we work with, and get better at what we do every day.
The Opportunity:
Our ultimate goal is to make data-driven decisions the core of everything we do in debt settlement, leveraging strategic use of financial, credit, and consumer data across all aspects of our products and operations.
In this exceptional analytical opportunity, you will help make data and data-driven solutions a core competency of our products and operations through the application of descriptive, predictive, and prescriptive analytical techniques.
In addition to providing valuable insights and analytically driven recommendations on a daily basis, you will debate and influence business, product, and technical strategies to help us solidify Freedoms top spot in the debt settlement industry.
Job title delineation for this open data analyst position will be dependent on applicants technical proficiency and relevant work experience to do this role.
The Role:
Identify answers to challenging business and product questions based on the relationships, patterns, trends, and behaviors hidden in financial, credit, and customer data.
Extract answers using descriptive and predictive analytical techniques, such as clustering, modeling, optimization methods, and reporting historical insights.
Prepare, manipulate and derive answers with SQL, Python, and R.
Create, display, and automate relevant reporting and analytical visualization in Tableau.
Partner closely with internal stakeholders to identify highest value business and product questions to work on at any given time.
Ideate with your partners when deriving answers to business and product questions.
Prescribe solutions to help your partners make better decisions more often with data.
Your Background and Characteristics:
You have a B.S, M.S, or Ph.D. in a quantitative field such as analytics, statistics, mathematics, computer science, information systems, or equivalent experience. M.S. or Ph.D. is preferred.
You are proficient using SQL. Advanced knowledge is preferred.
You have used Python, R, or SAS to conduct descriptive, predictive, and prescriptive analytical techniques. Experience with clustering, regression, decision tree, and time series analysis is preferred.
You have experience creating and automating charts, tables, graphs, and dashboards to summarize results and visually share analytical narratives to explain data-driven insights.
You have experience using Tableau, or other relevant visualization software, to create, display, and automate all relevant reporting and analytical visualization.
You like operating in a complex, cross-functional organization where you need to collaborate with others.
You bring a new and diverse perspective.
You are an active listener and have exceptional communication skills.
You are articulate with both business and technical partners.
You know how to tell compelling stories with data.
You are enthusiastic about Freedoms culture.
Cultural Fit (Our Core Values):
Care (for everyone): We show compassion and contribute to the well-being and growth of those around us. We only pursue products that improve the financial lives of our clients.
Act with Integrity (every time): We take the right action even when it is hard and even when no one is watching. We treat our employees, clients, and communities the way they wish to be treated.
Get Better (every day): We innovate, iterate and improve each day. We are creative, take thoughtful risks, and ultimately learn and recover from failures.
Collaborate (with everybody): We strive to work together toward a common purpose by proactively sharing information and inviting participation. We recognize the perspective of various groups and embrace healthy, constructive debate.
Why Join the Freedom Family?
Fast, continued growth - theres a lot of opportunity for advancement
Voted a Phoenix Best Place to Work 9 times by our employees including the #1 spot for 2 years in a row!
Benefits start within 30 days
401k with employer match
3 weeks paid vacation (increased with tenure)
9 paid holidays & 5 sick days
Paid time off for volunteer work and on your birthday
Attention Agencies & Search Firms: We do not accept unsolicited candidate resumes or profiles. Please do not reach out to anyone within Freedom Financial Network (FFN) to market your services or candidates. All inquiries should be directed to Talent Acquisition only. We reserve the right to hire any candidates sent unsolicited and will not pay any fees without a contract signed by FFNs Talent Acquisition leader.
vwghrvxcq4nk
123775365